How to ace your business pitch to get startup funding
If you ace your business pitch, you get to boost the odds of getting startup funding.
The business pitch is that brief time you get to be in front of people that matter: investors.
You only have one shot to convince investors that your startup is the correct business to invest in.
Remember you'll be vying with other startup founders seeking funding so it's critical you stand out and ace your business pitch to have a shot at funding your startup.
How to ace your startup pitch for business funding
Start with the need
Great businesses solve a problem, so to ace your business pitch, establish the real problem right at the beginning before you come in and explain how your business provides the solution.
Tell people of the ramifications of the problem. If the investors can relate well to the problem, even better, because you are going to establish yourself as the solution to the problem or need.
Explain clearly why you started your business. Of course, you want to make a profit, but the real reason why businesses exist is that they solve problems.
Use the "So What?" Test. Keep asking "So what?" Why does your idea matter? What value does your idea have? Keep refining your answer until your answers are very strong.
Have the learner mindset
Investors are going to ask a lot of questions regarding your startup and it's impossible to prepare for all possible questions. Yes, you can prepare for the most common or most likely questions but for sure, you're going to find some questions that will stump you.
According to an angel investor, Michael Fertik, it's important to never say "I don't know." Say "I don't know, but I can find out."
Data can sometimes be hard to get especially if it is a new market you are entering. Yes, you'll be gathering as much information as you can but when you don't have it, just say, "I don't know, but I can find out."
This signals two things to the investor: humility and the learner mindset, both of which are important characteristics to have as an entrepreneur.
Articulate your execution plan
Yes, big goals and dreams are great ways to inspire the investor to an amazing future that will trigger that emotional response to investing in your business, but veteran investors have seen a thousand pitches and all of them sell the big and audacious goal. So they look for the details to find out which one has the biggest chance of succeeding.
This is where the startup founder that does his or her homework the best wins.
So sit down and get to work with your execution plan. How will you bring your big idea to life? Go step by step and learn all aspects of your business and distill the details into core ideas that you can present in your business pitch on how you will deliver on your business idea.
It's critical that you look at your business idea from as many perspectives as possible. Poke holes in it and figure out how you can plug those holes and make sure that your idea is robust and your pitch compelling.
Know your numbers
This is a common pet peeve of investors, especially if you watch the very popular, Shark Tank. They like to quiz the owner of the key numbers in the business, e.g. sales, the cost of production, distribution costs, prices of competitors, etc.
While numbers might not be your strength, to ace your business pitch, you still have to know your numbers because these are the things that will help the investor decide whether it's worth their time and money to invest in.
The importance of knowing your numbers is that you will also know how much funding you need. It's not good to go into the business pitch session and just think of a random number, e.g. 10 million dollars and say that's the funding you need.
The investors are going to grill you on how you intend to use the funds. Without knowing the details and numbers of your business, it's unlikely you will impress them.
Also remember that with bigger funding comes greater strings attached, e.g. they will ask for a higher ownership stake or control or influence on your business. If you're particular about ownership and control, throwing an audacious random number can throw everything off track in your business pitch.
Know your risks and expose them early
According to Linkedin co-founder Reid Hoffman, it's important to know the threats to your startup and how you will mitigate them. Hoffman says, "Explicitly identify the risks that could thwart your success and how you will mitigate them. And instead of waiting until investors ask about your risks, share them proactively so you build trust."
Prove your main revenue stream
Investors love startups that have a clear revenue stream and even better are already earning from it and just need the funding to scale the business further.
So get very clear on how your business model works and how your business generates money. Remember you are not a conglomerate with many streams of income.
It's best to have a clear source of revenue that directly links to the type of business you have. E.g. you don't rely on rental income from the properties your business owns. You generate money because you provide a valuable good or service to the customer.
Provide visuals, fewer words in the slide deck
To ace your business pitch, your presentation deck must be flawless. It means avoiding presentation no-nos like too many words on the slides or having poor quality visuals.
Invest in your slide deck. You can hire a professional slide maker so that they can create a brilliant pitch deck that has your key ideas in it.
Powerful visuals are important because like they say, a picture tells a thousand words.
Also, the brain loves visuals and if you can create visuals of your main points, it will stick better in minds of the investors.
If you can do a demonstration of the actual product, that's even better. Let them see the product personally. Let them touch and fiddle with it. That will give them a better experience of what you're trying to bring into the market.
Limit your slides
Too many slides will make your business pitch long-winded and unfocused.
To ace your business pitch, you can follow Guy Kawasaki's advice who was one of Buffer's advisors.
Kawasaki preaches a 10-slide pitch deck template that you can use and focus your efforts on.
The idea is to keep it short, focused, and most importantly effective.
Do a competitor analysis
To ace your business pitch, you should also mention your competitors and explain your competitive edge against them. Show the investors how your product is different and how you intend to keep them at bay.
Let them know your team
A successful startup is backed by a strong team. Don't be shy to share who they are in your business pitch. It's possible that the investors might know some of your management team members and that could be a plus for them to invest in your startup if the people that joined your startup are of high reputation.
But don't dwell too much on this slide. Keep it short and sweet and post a couple of pictures of your team members.
Go in confident but with humility
Don't allow yourself to be bullied by potential investors. Show excellent confidence in your product or service. You're not begging for funding. You're giving them an opportunity to make money. If they are not interested, others will be. That should your mindset entering the business pitch.
Investors love confidence and they can smell insecurity or desperation from a mile away.
Do research on your investors' profile
Understand who your audience is. Different investors have different investment philosophies and aims. Some are for the medium term, some are long term. Some only look for certain industries.
Once you understand who are your possible investors, you can modify your pitch to align a bit better to what they are looking for.
So before the business pitch, ask the organizer who are the investors, who will be present and do your background research on them first. What made them invest in their current portfolio of startup investments? Learn from those that successfully got them to invest. Get their business pitches or video recordings of their presentations that got them the deal.
Study meticulously the biographies of your investors, their social media. Understand what drives them. If you have something in common with them, e.g. you're both alumni of the same university use that information to your advantage during the pitch.
Make the pitch personal. Connect with them on an individual basis.
Explain the market trends
Show the investors you know how to position your business in the current market. Understand the trends and how the market is doing. Is it an up and coming market or is it a mature industry you're looking to disrupt? How will your business position itself? Who are you competing directly with? Who are the ones you can possibly build partnerships or networks with?
Create a minimally viable product (MVP)
Before pitching your idea, it would be great to build a minimally viable product (MVP) which is the most basic version of your offering. This tells the investors that you have made a considerable investment in the business already.
The MVP also gives you a better understanding of what customers are looking for and the features that can be improved or discarded. Plus, investors want something tangible rather than an idea that they have to imagine first. With a tangible item, they can ask more questions and imagine the possibilities that your MVP can become.
Be a storyteller
One of the best ways to ace your business pitch is to tell a story instead. Weave into your story the problem and how your business provides the solution to the problem.
Humans love stories. We are wired to be drawn to stories. So instead of seeing it as a business pitch, see it as a storytelling experience. Practice your storytelling skills. Get good at it. Insert humor, fun anecdotes but still laded with business facts and numbers. In your story, make sure it makes an emotional impact. Make sure it hits the hearts of the investors. Investors are not all mind and numbers. They are human beings that get emotionally impacted as well.
This will allow your business pitch to stand out from the rest who might be likely formal business pitches that lack warmth and humanity.
Practice first in front of other people
Don't let your business pitch in front of investors be the first time you're doing your pitch. Practice and ace your business pitch first in front of other people. Make it flawless, and demonstrate your product or service perfectly.
Practice, Practice, and Practice.
If there is one single thing to get out of this post, this is it. Just practice until it is so polished and perfect.
Keep improving your business pitches
Each time you finish a business pitch, you should revise your presentation based on the feedback and insights you have gotten during the session.
In this way, your pitch will always be fresh and up-to-date with the latest information, statistics, and modifications that reflect what investors are zoning in more. Sometimes, there are some slides in your presentation that don't make an impact on investors.
Your goal is to have a presentation deck in which all the slides are important and make a big impact on the minds and hearts of investors.
Sell yourself as an exceptional entrepreneur
Aside from highlighting the awesomeness of your product, you should be positioning yourself as a great entrepreneur and business partner.
At the end of the day, when investors invest, they are creating a business partnership with you. So, convince them that you're the right guy to partner with.
Share anecdotes about your work ethic and how you have used your intelligence and perseverance to come up with business initiatives to make your startup a success. Show them your creativity. Impress them with your honesty and passion for your business.
If you do this, the battle is half done already. Investors want to work with great entrepreneurs because they know that what makes a business successful are the people running it.
Leave your ego at the door to ace your business pitch. Be realistic. It's unlikely that you're the next Google or Facebook so be truthful when you explain your business model to the investors.
Ace your business pitch by knowing how to negotiate
One of the preparations you have to do before doing your business pitch is to have a negotiation strategy.
Know what you are willing to accept and know what cannot be compromised. Investors can be shrewd and you can be caught off guard if you don't prepare well with their offers. They don't like indecision and they can walk away with their offers if you can't decide properly. The stakes are high so make sure you practice your negotiation skills because this is when things can get tricky.
Doing your homework very well and understanding the industry well will be your assets during the negotiation so that you don't get taken advantage of.
Prepare for every possible question or thing they can challenge your business idea with. Practice with an experienced negotiator every scenario that could come up. Make sure that you learn the best practices in negotiating.
Stay positive and don't get defensive
Things can get heated up when you're in front of seasoned and shrewd investors. You may feel maligned, insulted or they might mock your business idea with current existing businesses or previous business failures.
It's critical that you don't take their criticisms personally so that you can ace your business pitch. Stay calm and take their comments positively. Learn from the experience. Don't fight fire with fire because you will lose the opportunity to get funding from them.
If you don't know the answer to something, say something positive like you will look up the answer. Or if you need further time and research to answer something, say that you will look for them and follow up on their query.
Before going to the business pitch, make sure you pack lots of patience and happiness so you can stay away from heated battles with potential investors.
Be calm and be in control of the entire experience. Visualize success before entering the room. Use affirmations to boost your confidence.
End your pitch with a bang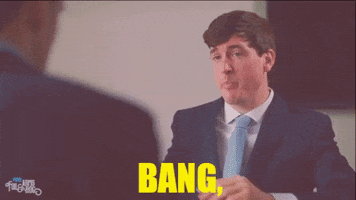 The end of your pitch should be memorable. You should remind the investors who you are and what you're offering to the world and then don't forget your call to action, whether to ask for a meeting or to visit your website, or to seek specific funding. Get them excited at the end. Make them look forward to continuing the conversation after the business pitch.
Ask for their business cards or a follow-up meeting. Be assertive and make things happen.
Ask for what you believe your business deserves.